ALL THE MUSICS I'M FOND OF

Music is half of my life. I began playing the guitarne at seventeen.
I started my musical life, like many teenagers by forming groups.
| | | |
| --- | --- | --- |
| First a loony band | | then a "serious" one, |
| | | |
In the late '70s, I bought recording devices, 4-track mixer,
synthesizer, guitar, bass, effect pedals
and I made my first experiments of harmonization.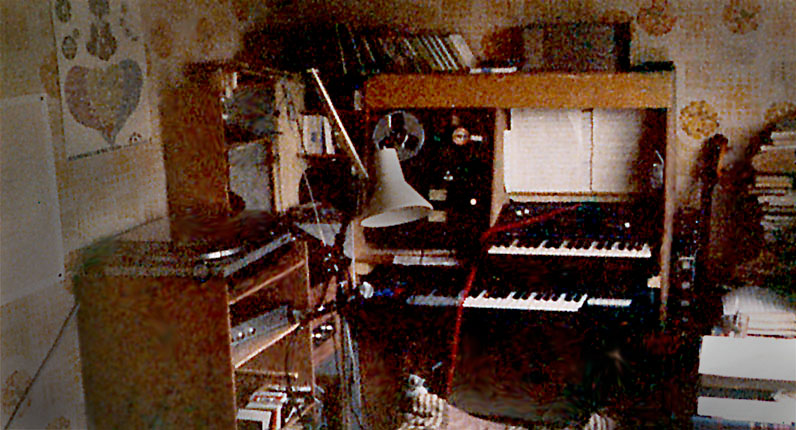 But since then, in Formentera, I had built two repertoires:
One of french songs and one of english sixties. Each one had about thousand titles.
I forgot a lot of words in the lyrics, not practicing enough regularly,
but I am still ableto animate long winter or summer evenings.
I always dreamed of performing music marathons ...


The sessions with Alain Depière were traditional at the end of my "tour de chant" in his restaurant, "La Lagartija". He left his kitchen and began playing "Mon pote le gitan"on his harmonica.

With Solange Vergara now part of the great jazz vocal group that are the Voices Messengers, we have been singing as a duet for nearly four years a lot of Beatles, Simon & Garfunkel, Nougaro and many others.




Less often, unfortunately,Albert Sardà and myself played in public.
But we did a lot in private. . Albert is the only one with whom I could
improvise for hours and it was mutual.

Albert Sardà is a catalan composer, director of several
conservatories around Barcelona and creator
of the Foundation for Contemporary Music in Barcelona.

And here are my guitarnes from left to right, a travel guitar purchased 3000 pesetas, the latest Godin nylon electro-acoustic MIDI, a guitar cobbled together from a Stratocaster defect body with a handle and a microphone Welson, and "my guitarne" which is a Yamaha folk originally with a red-yellow gradient.
On this one, I removed a layer of wood out of three from the table even more near the soundhole, because I think the apanese guitars are too heavy.
Then I drilled two rosacettes à la "Favino" and decorated it. I then left it every dayfive years in the sun to let it really dry out. It was double or quit, I've won because except a refretting, it has got deeper sound.

As strange as it may seem to me, it was never stolen, I've had it 31 years now. It's MY guitarne !


My french répertoire

Charles Trenet, Edith Piaf, Claude Nougaro, Léo Férré, Bobi Lapointe, Jacques Brel, Boris Vian, Antoine, Dick Annegarn, Gilbert Lafaille, Henri Salvador, Thiéfaine, Julos Beaucarne, les Charlots, Pierre Perret, Ricet Barrier, Jacques Higelin, Roger Riffard, Richard Gotainer, etc...


My english répertoire

The Beatles (à 95%), the Who, the Kinks, the RollingStones, Cat Stevens, Simon & Garfunkel, America,
Peter Hammill, Otis Redding, Supertramp,
Donovan, Bob Dylan, the Mamas & the Papas,
Lovin' Spoonful, the Moody Blues, the Troggs, etc...
My musical influences are varied, of course ,

classical with

jazz with

pop with

latino with


world with


Bach, Beethoven, Dvorak, Manuel de Falla,
Ravel, Saint-Saens, Satie, Debussy, Moussorgsky,
Phil Glass, Terry Riley, Xenakis, but mostly Igor Stravinsky

Duke Ellington, Dave Brubeck,
Magma, Soft Machine,

the Beatles, the Beach Boys, Blood Sweat and Tears,
Pink Floyd, the Who, the Yardbirds, the Animals,
Frank Zappa, Genesis, E L & P, Gentle Giant, Robert Wyatt,
and mostly Peter Hammill or Van Der Graaf Generator,

Tom Jobim, Vinicius de Moraes, Joao Gilberto,
Baden Powell, Cesaria Evora, Buenavista S C, Chico Buarque,
Dario Moreno, Gloria Lasso(eh oui), Astor Piazzola, Caetano Veloso,
Ruben Blades, Nino Rota, Alberto Iglesias,

with musics of all origins,
african, arab, asian and especially the pygmy polyphonies.